When you rent Gucci bag, you get all of the luxury with a low cost. In fact, this is true no matter the designer when you chose to rent a designer bag! Whether you rent Chanel bag or rent a Louis Vuitton bag, Luxury Fashions Rentals has the right bag for you! Here are some of our favorite Gucci bags for the summer!
Gucci Padlock Small Shoulder Bag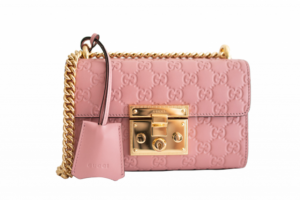 This Gucci bag runs small at 5.8″ H x 7.8″ W x 3″ D, so it was made to fit all the necessity items. However, it does come with a pocket at the back of the bag, providing storage for the smallest of items. The bag comes with a push lock closure, so you can ensure they remain safe. The pink material is made from leather, covered with the Gucci logo – ensured to impress all of your friends!
Gucci GG Marmont Small Matelasse Shoulder Bag
While this Gucci bag is also pink, it brings a more spring-like appeal with its lighter shade. At : 6″ H x 10″ W x 3.5″, it is bigger than the previous if you require more space. The bag even has a heart imprinted on the back of it, so you can guarantee you'll think of love when you think of this bag. With antique gold as the hardware, this bag comes with a timeless appeal.
Gucci Blooms GG Supreme Mini Chain Bag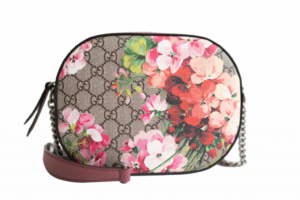 With flowers blooming all over the Gucci print, this bag is sure to bring some light to your day! At 6.5″ H x 8.5″ W x 2.25″ D, it is in the middle of the three Gucci bags. It comes with a chain strap, perfect for easily carrying around your items. No matter what you chose to wear the bag with, it will add the perfect pop of color!
These bags are just three of the bags available to rent at Luxury Fashion Rentals. Click here and have a look for yourself at all the options and find the right bag for you.