When it comes to women's vanity there are a few things that top the list, and that list is surely incomplete without the mention of luxury handbags. Despite this, purses and handbags often fall under the radar. They often end up stuffed in a corner in your closet making their own leaning tower of Pisa or stuck under your accessories. Handbags, whether rented or owned, need to be taken care of properly to extend their life and maintain their oh-so-luxurious sheen that you fell for when you first saw them.
Here are 5 tips that can help you!
1) Primary Care
To keep your handbag in immaculate condition, the first line of defense is always the outside material of your handbag. Whether your bag is made from premium leather or from cotton fabric, you need to be mindful of how to care for that material. Leather needs special care against humid and damp weather, so be sure to use professional leather cleaners. Cotton can get stains from spillage and pollution from the environment. If this happens use warm and soapy water to clean. Refrain from using alcohol-based solvents as they have the potential to affect the color of your designer handbag.
2) Use The Dust Bags That Come With Handbags
Whenever you order a bag for rentals from Luxury Fashion Rentals or purchase one in-store you will most definitely receive it with a microfiber bag known as a dust bag – this bag prevents dust from entering and depositing on your new luxury bag. Hold onto it as it proves useful in maintaining your bag's shine and quality.
3) Keep Your Liquids In A Separate Pouch
We all know how many times we have unintentionally spilled our night creams, foundations and even perfumes in our handbags and regretted it later when the stains become evident. Take it from us and use a separate pouch inside your Chanel Gabrielle Backpack to keep your liquid items in place.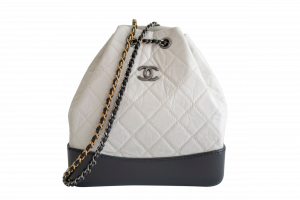 In case something leaks or breaks off you won't have to change the whole thing. Instead, you can just replace the pouch. Keep this in mind when you rent a Chanel bag!
4) Stuff Your Handbags With Plush When Not In Use
Whether you own a Gucci GG Marmont Velvet Mini Bag or Louis Vuitton's Speedy Bandolier, make sure to stuff them with soft fabric or plush cushions to maintain their shape. You can use a sweater to stuff your large bags, whereas smaller ones can be stuffed with little travel cushions. Stuffing really helps in maintaining a handbag's shape as well as keeping it upright for all the time it hasn't been used.
5) Keep Your Handbags Positioned Straight Up In A Closet Or Shelf
This is a deal-breaker! Keeping your bags in a closet on top of one another will damage your luxury handbags in ways you can't even imagine. You might find out that one of your handbags is missing the many Swarovski crystals from the broche because it was thrown under your large tote bag. Save yourself from this heartbreak by using a shelf to store your bags individually.
Follow these 5 easy tips to maximize the longevity of your handbags.