In a world inspired by fashion trends, we seek to create the perfect look for ourselves. With trendy attire, on-point hairstyle, and a gorgeous pair of heels, what we need to complete the ensemble is the perfect designer handbag. As the label glistens in the distance, a designer purse exudes a form of luxury and fashion unlike any other. Despite the mighty importance of such bags, our ability to purchase them remains restricted to our incomes. With the advent of Luxury Fashion Rentals, this situation has now changed. Whether you wish to rent a Chanel bag, or a Louis Vuitton, all and more are available on this platform enabling easy luxury handbags rental.
Of course, to rent a luxury bag, we must be aware of the latest handbag trends. In this regard, one such woman's bag that has taken the market by storm is none other than the bucket bag.
Wondering what is so special about the bag?
The Unique Shape
As the word bucket suggests, the bags have a sturdy base with a longish shape. This clings to the body in a fashionable manner, making the wearer stand out in the crowd. Paired with tassels and fringes, the look of the bag is further enhanced to suit all occasions, from casual to party wear alike. Want to stun all? Don the glamorous monogram summer trunks-hued NeoNoe or opt for the subtler NeoNoe by Louis Vuitton for mere $200 rental rates.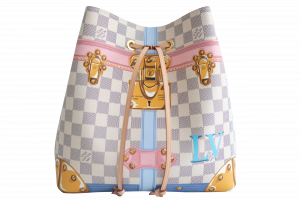 The Glorious Depth
The ease of the bucket is from the ability to chuck as many things as you want in it, and still have space for more. The ample depth allows for items as large as water bottles to ones as small as lipsticks. Also, with the lack of zippers and pouches, quick retrieval of your items is facilitated.
Wear as you Wish
Usually purses and handbags are a bit rough on the shoulder. However, bucket bags uphold flexibility of strap, and allow adjustment to size. Whether you want to wear the bag on your shoulder like a sling bag or hold it like a handbag instead, everything becomes easy with the bucket bag. If you wish to rent a Louis Vuitton bag enabling ease of wear, the NeoNoe in monogram rose poudre color is a great option.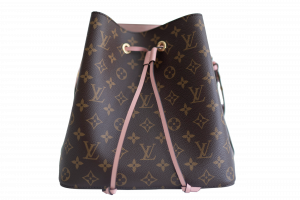 However, with each unique style there are drawbacks, and the bucket bag surely has some:
The Easily Accessible Open-Top
No zippers and a mere drawstring on top to close the bag results in a widely unsecured bag. Standing in a crowded area, someone could reach in and extract any of our belongings without us knowing it. Thus, keeping valuables in mini pouches in the bucket bag is a way to enhance protection.
The Shape Might Not Suit Our Body
Although the longish shape of the bag is different from the usual handbags we wear, it may not suit all body types. A large bucket bag may appear as an extra bulging entity for women with comparatively petite figures.
A Whirlwind Of Items
The bucket bag has depth and eased retrieval. However, without any zippers, dividers, and pouches, there may soon be a whirlwind of items in the bag. Thus, it may take longer to look for relatively small items that you may have kept in the bag, for example an eyeliner.
The bucket bag trend is certainly one to watch out for. Despite its own set of limitations, it is a widely in-trend bag bound to make you a head-turner, especially the Louis Vuitton Nano Noe in Damier Azure Tahitienne. Can't wait to don this famous trend? Visit Luxury Fashion Rentals now and get your favorite designer bags for rent.