We've all been through the time where we decided to buy luxury handbags from different online platforms. We ended up regretting it as the handbags didn't turn out to be very reliable in the end. They were either not the perfect size or the material wasn't as durable as we thought it would be. So here we are with the top 5 Chanel designer bags that are worth your investment and will never disappoint.
1) Chanel Classic Medium Double Flap Bag
The Classic Medium Double Flap Bag by Chanel is worth your investment as the simple design of the bag can be matched with a variety of outfits, no matter what the occasion is. This simple yet chic bag can be used as an elegant addition to your daily office attire or a touch of style to your plain dress when you are out for a simple lunch date with your significant other.
2) Chanel Classic Rectangular Mini Flap Bag
This Mini Flap Bag by Chanel is worth your precious money as it is extremely easy to carry and handle. The mini pocket on the back of this bag can act is an instantly accessible pocket that won't require you to open your bag over and over again. This bag can be the perfect vibrant addition to your bag collection that can help you brighten up your dull outfits effortlessly.
3) Chanel Old Medium Boy Bag
This vibrant yet elegant bag can be incorporated with many outfits that lack the bright and lively touch. The Old Medium Boy Bag by Chanel is the bag worth your investment as it helps you create a variety of head-turning outfits for all types of occasions.
4) Chanel Gabrielle Wallet On Chain
Looking for something bold yet classy at the same time? Well, this Gabrielle Wallet on Chain by Chanel is exactly what you need. The two-toned, simple and plain bag with golden fixings on the bag can help you stay classy without having to put too much effort into it. This bag is worth the investment as the minimalistic style will let you accessorize your outfit the right way and not spend extra money on it.
5) Chanel Deauville Large Shopping Tote Bag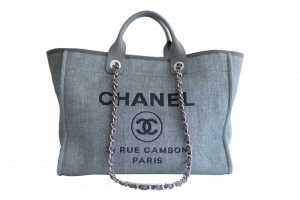 The Deauville Large Shopping Tote Bag by Chanel, as the name says, is the perfect shopping bag that would not only help you carry around the needed contents with ease but will also help you achieve a laid-back and cool look. You won't regret spending your money on this bag due to its reliable and spacey design.
Now that you know that these gorgeously chic bags are worth your investment, don't forget to get your hands on them from Luxury Fashion Rentals. We allow you rent luxury designer bags at extremely reasonable prices. We hope that these luxury handbags by Chanel will help you to accessorize your look and to look your best at any time.